Commercial Lines
We Are the One-Stop for All of Your Company's Insurance Needs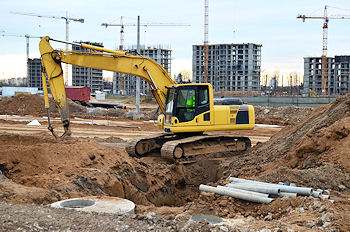 The Sweeney Company wants to do more than just offer you insurance. We want to sit down with you and discusss your business and create the best plan to protect your company. Creating a comprehensive and business specific insurance program can reduce risk and reduce your company's costs. The Sweeney Company will help you protect your company by finding the broadest range of commercial coverage for the best value. Let us give you a free insurance quote to prove it!
We offer the following business and commercial insurance coverage:
General Liability insurance protects your business from financial loss resulting from claims of accidents or injuries that occur on company property, or from the use of goods and services sold by your company. General Liability insurance, in addition to other related policies, can protect your company if you are sued for personal injury, or property damage by a third party.
Commercial auto insurance is liability and physical damage protection for vehicles, such as cars, trucks and vans, that are used for business. Commercial vehicles require a separate policy because they're typically exposed to more risk than personal vehicles. Commercial auto insurance isn't just for industrial vehicles like semis or dump trucks. For example, businesses that use a car to run errands, carry tools or transport clients might also need a commercial auto policy.
Employees want to feel safe at work, and company owners want to keep them safe. The state provides Workers' Compensation programs to provide for lost wages or needed medical care arising from job related injuries, accidents or occupationally related medical conditions. Having Workers' Compensation Insurance can also protect your company from monetary losses that often accompany these types of claims. Every industry has its own set of risks.
Excess/Umbrella Liability
The difference between these umbrella and excess coverage forms is that the umbrella can be used to cover some losses for which there is no coverage provided by the underlying insurance policies. The excess form then only covers losses that are covered by the other insurance policies that exist as primary insurance.
No business owner wants to deal with the lost time and money that goes along with damaged or stolen property. Commercial Property insurance helps you repair or replace buildings and other property damaged or destroyed by storms, fire or other events outlined in your policy. Each company is different and The Sweeney Company can find a policy that fits the needs of your business.
Examples of the types of Commercial Property coverage we provide:
Buildings and Structures
Furniture and Equipment
Inventory and Records
Computers and Technology
Property Improvements
Glass & Fine Art
Outdoor Fences and Walls
Commercial Auto
Your company needs Inland Marine coverage if you need protection that is not necessarily confined to a specific location, and cannot be insured with a standard policy.
Cargo insurance protects you from financial loss due to damaged or lost cargo. It pays you the amount you're insured for if a covered event happens to your freight. And these covered events are usually natural disasters, vehicle accidents, cargo abandonment, customs rejection, acts of war, and piracy
Pollution liability insurance policies cover claims from third parties against bodily injury and property damage caused by hazardous waste materials released during a company's business operations. This insurance covers you while you are completing a job, and it also covers your completed operations.
Railroad Protective Liability
Railroad Protective Liability (RRP) insurance is required of contractors who perform work on or around railroad tracks, railroad right-of-way or owned railroad property. Railroad protective liability coverage protects railroads from potential financial risk and hazards.
We proudly serve all of Texas.
1121 E. Loop 820 South
Fort Worth, TX 76112
817-457-6700